JHU Center for Social Concern Sustainable Food and Nutrition Initiatives
There are several Center for Social Concern groups working collaboratively to promote sustainable agriculture, health education, and nutrition education within the Baltimore community including Campus Kitchen at JHU, Real Food Hopkins, Cooking with Kids, Hopkins Farmhands, and the Healthy Community Initiative.
In Fall 2011, JHU students, faculty, and staff, as well as area community partners, broke ground on the new campus community garden, The Blue Jay's Perch: The Community Garden at Johns Hopkins Eastern. There is also a small campus garden in the backyard of a building next door to the CSC. Click here to check out their garden blog!
Special Event: Food Justice at the University Level- March 9, 2012-JHU Charles Commons Conference Center
On Friday, March 9th, the Campus Kitchen at JHU, along with the Center for Social Concern and the Maryland-D.C. Campus Compact, will be hosting a conference entitled Food Justice at the University Level. Come for inspiring speeches from people who are feeding the world sustainably, for workshops where you can learn how to start or expand food justice initiatives at your campus, and for great locally-sourced food!
Whether you are a student interested in starting food justice initiatives on your campus, or a community member interested in increasing your network of food access partners, come prepared to learn and enjoy yourself!

After a morning of meeting people from organizations on the front lines of food access, you will have the choice to attend one of two workshops: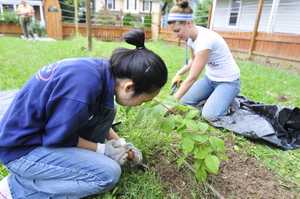 Student Inspiration: An Introduction to Student-run Initiatives, is perfect for students who are new to food justice. 
Campus-Community Involvement: Connecting and Combining Efforts, is perfect for those wishing to discuss best practices and to meet new people who can work with them on common goals.
The cost to attend the conference is $5, and includes conference materials, breakfast, lunch, and transportation to an optional campus community garden site visit. 
All proceeds go towards the work of the Campus Kitchen at Johns Hopkins University
Click on the Links For More Information:
FOR MORE INFORMATION: Lena Denis, MDDCC AmeriCorps*VISTA Sustainable Food and Nutrition Coordinator, at adenis3@jhu.edu or 410-516-4843.